<! begin content cell, which is a table centered in the cell >
<! border is width of outside border, cellspacing width of inside border >

<! top row of content table is title/author >
<! begin author cell >
<! begin title cell >

ADK 46

<! begin author cell >

Family
gets
the 46
<! end title/author row >

eff, in the lead, stepped onto the summit of Haystack, stabbed his fist in the mist, and shouted "Give me a 4".
Jen, Jean, and I, a little ways back, chorused
"4"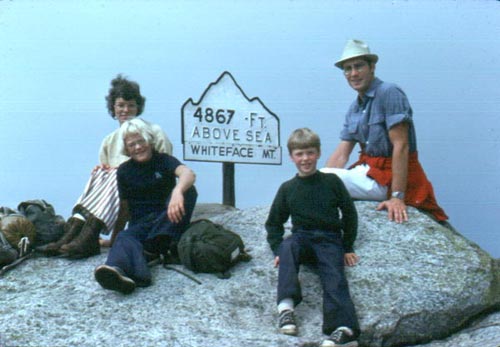 "Give me a 6"
"6"
"Give me an e"
"e"
"Give me an r"
"r"
"Give me an s"
"s"
"What does it spell?"
"46ers"
"Louder"
"4 6 E R S"
LOUDER
"F O R T Y - S I X - E R S"
And thus we became, by deed, if not yet by ink, Adirondak 46ers, on an on-again, off-again misty afternoon July 2, 1981. While we were on the summit the mist lifted to show us the spectacular Haystack vista - quite a change from two days earlier on the summit of Nye. Then as we departed Haystack via Little Haystack the mist again swallowed peak number 46.
We had hoped to complete the 46 last summer, but Jean got bad heel blisters and the doctor grounded (untrailed?) her, and hence us all, for the season. Six peaks were left: Marshall, Cliff, Street, Nye, Colden, and Haystack. So this summer we drove from Tulsa, arriving in Lake Placid on June 28, for the final assault. We planned long days on the trail, and this time of year is when the days are (almost) the longest.
Monday, June 29, saw us on the trail at 6:30am. Destination: Marshall, then Cliff, then back out for a hot shower after a hard day. It was a pretty day, and the trail past Marcy Dam, to Avalanche Lake, across hitch-up-Matilda, to the mouth of Herbert Brook was easy. The hike up the slides of Herbert Brook was neat walking. By noon we had 41 and counting. Four hours later saw us on the summit of Cliff and number 42. On the way out, via Lake Arnold, we missed our deadline for climbing Colden too, by one hour. Still, 2 mountains, 22 miles, and 14 hours on the trail was quite a day. That shower felt good.
The next day it was Street and Nye. After following the old Nye ski trail to Indian Pass River, we used map and compass to navigate westward. Shortly we hit the brook, and the walk up the brook was one of the nicest trailless ones we've had. Near the top of the brook a side trail took us to the summit of Street. Despite the myriad herd-paths on the top of Street and Nye, wandering everywhere and nowhere, we made it over to Nye without too much trauma. The magic of Nye is that it inspires those naughty phrases one reads in the canister book (we left one too). It just isn't right that there isn't a nice view after one has struggled through the knee-poking, pack-grabbing, face-slapping thicket. And then how does one get down, back to that nice trail by the stream? We resorted to the compass again, and just made our way in the right direction. Sure enough, we were soon padding along that lovely stream.
Forty-four and resting. We decided to take Wednesday off and soak up some sun by the pool. And plan the longest day yet - the grand finale on July 2. Both Colden and Haystack in one day, from and to the lodge, about 23 miles and what turned out to be 14 and a half hours.
And thus on Thursday, in the on-again, off-again mist, we started at 6am for Marcy Dam, Lake Arnold, and Mount Colden. Completely fogged in, we almost took the false summit for the true summit. Thanks to Jeff we got it right, and on the top of Colden the mist lifted enough for us to see the lakes far below and a train of climbers working their way up the steep west face. Then it was back to Lake Arnold, the cut-off to Indian Falls, the highway to the shoulder of Marcy, and then on to Haystack via Little Haystack. So what more can one say about those two beautiful mountains, Colden and Haystack?
"Give me a 4" "4"
"Give me a 6" "6"
. . .

Jerry Wagener
This is my report to Grace Hudowalski, Adirondack climbing historian, after we finished the ADK-46 as a family project - the 46 peaks in the Adirondack park of New York that are over 4000 feet high. To be recognized as a finisher you have to write Grace a personal note; those of wife Jean, daughter Jennifer, and son Jefferson follow.
We climbed all 46 together, as a family project, starting in the summer of 1975 when Jefferson was 7 and Jennifer 9, while we lived in upstate New York, and finished in the summer of 1981 when they were 13 and 15, respectively and we had moved to Tulsa, OK.
-jlw

ear Grace,
All of us enjoyed our recent trip back to New York to complete the 46 and to visit our former neighbors/friends near Brockport.
We made the 1500 mile drive Fri PM, Sat, Sun the 26-28 of June. Arrived in Lake Placid to learn that the area had been receiving lots of rain. We certainly were lucky to choose the week that we did for hiking, as the weather was great.
With black fly season at its height (or so it seemed) and our age increasing each year, we'd decided to "camp" in town and do long day hikes.
Expecting Marshall and Cliff to provide the greatest challenge due to the long distance in from the Loj, coupled with the prospect of an unspectacular view and poor herd paths, we opted for an assault on those 2 on Monday while we were fresh. We started at 6:35AM and came out at 8:30PM, thinking we'd gone roughly 22 miles in those 14 hours. The walk in over Avalanche Pass and Hitch-up Matilda was enjoyable, especially on the newly maintained trail.
We left the main trail for Marshall about 9:30. The hike along and up the brook was reminiscent of the Seymour ascent (which we'd done in the rain). Arrived on the summit at 11.
On Marshall: log book ->

6/24

Wayne Cook (25th) Black River, ND

6/24

Dan Hoffman, 46er #1148 and
Joe Coughlin (26th) Watertown, NY
The walk along the Opalescent went easily. It certainly is a "violent" stream.
The "blocked off" yellow trail to the Redfield/Cliff col is horribly oozy. I thought when I misstepped that I might sink forever into the mire. Jeff asked if we knew what BOG meant, having proudly coined a new acronym: Black Ooze Group.
Started up herd path to Cliff about 2 or 2:15, arrived st summit at 3:15. The traverse over to the summit was a welcome relief after the steep climb.
On Cliff: log book ->

George Hoch (39th), Binghamton (no date)
Frank Bianco, Whitney Pt. (2nd time around)
Larry Pringle (32nd), Springfield, MA
Mike Mathras (32nd), Belchertown, MA
The trail via Lake Arnold returning was the same as we'd found it last year - extremely wet and unmaintained; the kind one just slogs over. Arrived back at Loj, tired and happy.
On Tues, June 30th, we left the Loj at 9:30AM for Street & Nye. This pair was much more enjoyable than the usual trailless due to the walk up along the stream through woods that were (relatively) open. We climbed & climbed, expecting to arrive at the col & finally realized we were on Street, not far from the summit. Arrived at 1:30; no view; par for trailless.
Street - log book:

6/23

John A Harrington

6/30

Hank Bickel (32nd), ?, NY
Bob Ottaviano (#1484), Glenville
(had noted that these two had registered before us at the Loj)
The maze of herd paths between Street & Nye is a challenge. Jer got out the compass & we trekked over, losing, then finding paths. Arrived at the summit at 2:45PM.
Nye - log book:

6/24

Eileen Keegan (#1645)
J Robert Paltrand (35th)

6/30

same two as on Street
Bushwacked partially till we found the primary herd path down. Came off trail at 7:30PM.
Jen & I had been, for about 2 months, running 2 miles/day and found that it helped considerably on those 2 days. Nevertheless, we decided that we deserved/needed a rest on Wednesday.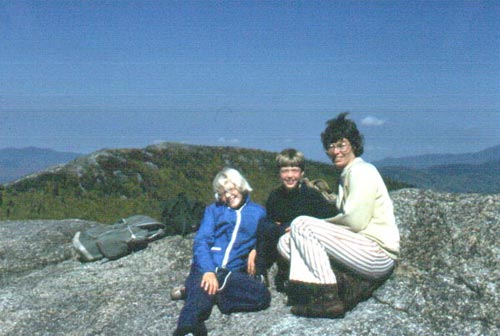 Thursday, July 2nd, we left the Loj at 6:05 for Colden and Haystack. The fog/clouds parted now and then so that we could never be sure that it would clear, but it did, finally, late in the afternoon and we were grateful for a decent day, cooler for a long hike than a clearer one would have been.
We arrived at the summit of Colden at 9:30. Jeff spotted the red triangle on the rock. He enjoyed being the first on each of these last 6 mountains - actually has been 1st on most of the 46. (If the numbering assignment isn't specified in any particular way, it'd be neat if he had the lowest of our 4, as he's the one who'd enjoy that "honor".) Still too much fog for a great view, but we could see a bit & saw a group coming up the dyke.
Finally, we meet a few people on the trail - there seemed so few this trip; empty lean-tos, empty parking-lots at the Loj.
The trek up to the shoulder of Marcy was familiar, and is a good trail, an easy walk before the deep col between Marcy & Haystack. Haystack is definitely on our list of mountains to re-climb.
As far as I can recall, we've taken pictures of ourselves, or had another hiker snap the 4 of us on all the peaks - except the 46th! We enjoyed the view, the clouds having temporarily lifted a bit, ate a (second) lunch, and were back on Little Haystack before we realized we'd forgotten the photo. Then we attempted to catch the pix with us on Little H and get H in the background - just as the clouds were rolling in again. Alas, perhaps another time we'll have a super day on Haystack.
Jen came "home" only as far as the Univ of Kansas where she's attending Music Camp for 2 weeks (she's a violinist), so her letter will arrive later.
This first year in Tulsa has been a good one, with Jeff and Jen both well settled into their new schools.
Your mailings of the 46er application forms arrived just as we did last August - all was topsy-turvy, and I'm sorry to say that I can't locate them (though I expect they are SOMEWHERE in a SAFE place). Could you please send more?
We hope that you have a good year. Looking forward to hearing from you.
Jean Wagener,46er

ear Grace,
We made it! Through, over the years, blisters, rain and inclement weather, and moments of dark, deep despair, we stuck to our goal. Our attempt at the 46 helped to teach me about setting a goal and sticking with it through thick and thin (and, especially in poor mom's case, blisters!). In this respect the 46 have been more than just hiking experience - they have taught me a bit about life, too. We had both good and bad times on those mountains!
It is a very satisfying feeling to know you have done something big like tackle 46 mountains which are completely covered with black ooze, mud, rocks, and roots (not to mention the blowdown, scrub spruce, or the "maintained" trails!). I suppose I am beginning to sound as if we had an awful time every time we hiked, but of course we didn't. There have been many happy moments and laughs experienced while hiking. We have also kept a mental list of a few of the 46 mountains which would really be fun to tackle again. All in all, we have had great fun hiking of the 46 High peaks.
On this last final trip we managed to put in a couple of 22-mile days. On Monday, June 29, we set out to tackle Marshall and Cliff, having gotten Redfield last year in a thunderstorm. We trudged full speed ahead past Avalanche Lake and over Hitch-up Matilda to arrive at the base of Marshall. The hike up the stream was really quite nice, but there was no view at all from the top of Marshall - a common trait, we have decided, of untrailed mountains.
While hiking up Cliff, we found how the mountain had earned its name. After coming down, the "maintained" trail we hit was so sloggy, muddy and WET that I swore I was going to write a nasty letter to somebody in trail maintenance. (I never actually get around to doing things like that, of course!). We emerged at the junction of the bad trail and a main trial to find that the bad trail had been blocked off! Now Redfield and Cliff are really "untrailed".
My feet and legs ached slightly as we emerged at Adk. Loj from our 22-mile hike. I had no specific pains or blisters, but just a general dull ache. I could tell that, even though I did hurt some, my daily 2-mile run had to condition me over the shape I was in last year.
The next day we set out to tackle Street and Nye. The herdpath going up the stream was very well-defined and the brook itself was much prettier than Marshall's. We didn't have any trouble finding Street - we just followed the herdpath that branched off to the left of the brook. Coming off of Street, though, we somehow missed the main thoroughfare over to Nye and so, with the aid of the compass and dad's directional skills and capabilities, had to bushwhack through scrub spruce until we hit a trail on the hogback near Nye which led us to Nye's summit. We cheered a lot on top because for us Nye marked the end of the untrailed peaks of the High Peaks! It turned out to be a 12 or 13 mile day.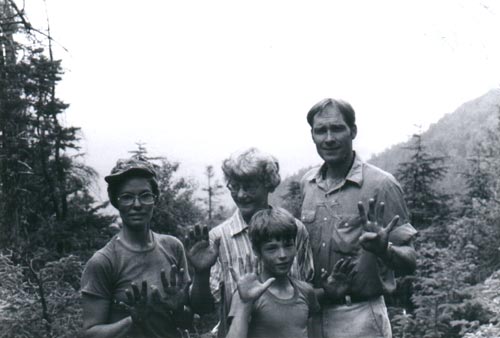 We decided to take a day of rest so we would be fresher before tackling Colden and Haystack in another 22-mile day. We enjoyed our day of rest and relaxation, not to mention swimming, very much!
Thursday dawned cloudy; it was misty and foggy up in the mountains. When we reached the top of Colden, it was still fairly socked in, although we could see down the dike to Avalanche Lake and could catch glimpses of nearby mountains through patches in the fog.
Our spirits on a high because there was only one more mountain to go, we started the trek over to Haystack. We took a rest at Phelps junction on the shoulder of Marcy before the descent into that 700-foot last col. Out of the col, up to Little Hatstack, from which our goal was in sight. Jeff made it first, but I came in 2nd! We shouted a bit on top and had a leisurely lunch. The clouds and fog lifted enough to show us for a few minutes the fantastic view which Haystack boasts. we finally set off for the trek out, feeling triumphant and exultant that we had conquered all 46 at last!
We realized too late (after we had left) that we had not taken our customary pictures of ourselves on the Haystack summit. So, on Little Haystack, we took pictures of us grinning and pointing to the Haystack behind us. (Of course, in accordance to Murphy's Law, Haystack was almost completely fogged in by then, so it didn't show up too well in the pictures! But we did feel lucky that we had been able to see the view from the summit.)
Once we reached the Marcy-shoulder junction again, we took a slight respite before continuing onward. Spirits were high (at least mine were) - for it was all down from there on out. We psychologically had it made: all we had to do now was walk out!
The remaining 8 miles went fairly uneventfully. We did get tired, of course - we were very glad to see Marcy Dam. On the last mile out to Adirondack Loj, past the junction up to Algonquin, my right knee and hip really decided to let me know that they were ready to quit. But we all (really Mom & I) just kept plodding and hobbling (limping, too!) along. Mom and I decided to try to enter the parking lot looking fresh. We plastered grins on our faces and tried to stride briskly off the trail. I'm sure we looked about ready to collapse - it must have been awfully funny to see us!
For the first few days none of us could really believe we had done it! I think it has sunken in by now, though. We were (and are) glad and maybe a bit wistful to be done, but we felt much satisfaction, relief, victory, etc., etc., that we had finished a job well done.
To me, the Adirondacks will always remain my first big hikes, on which we all learned a lot and had great fun. I'm glad we decided to do it and stuck to it - this has all been the experience of a lifetime!
Many thanks to you, Grace, for being patient and kind not only with us, but all other finished and aspiring 46ers as well, and for writing letters back to each of us. We appreciate it vey much and applaud you for your efforts!
with love from a now-addicted hiker,
Jennifer Wagener, age 15 1/2, 46er !

ear Grace,
Hail to the climbers valiant;

Hail to the conquering hikers;

Hail, Hail to the Wageners,

The 46ers of the west!!
We all made it unhurt (except Mom's 19 black and blue spots and 10 blisters).
First we did Cliff and Marshall in one 22-mile day. We went over hitch-up-Matilda on a nice trail to the stream. The trail up the stream to Marshall has a good herd path and the stream was beautiful. Near the top of the col the trail got a little muddy and wet but then the path was nice again. On top there is not a view at all. Number 41!!
We then went up the Twin Brook trail to tackle Cliff. We found a small herd path up that joined a larger one. A well-defined trail led us to the welcoming Cliff canister. Number 42!!
The next day we did Street and Nye. The old ski trail was a nice path to the brook. After the brook we bushwacked to the tributary and found the path. It went up the brook and was a good trail. Near the col the trail took off for Street. Number 43!!
There is a maze of herd paths between Street and Nye. We had to bushwack a little but found the right trail up Nye. Number 44!! The last trailless!
After two hard days we relaxed and swam.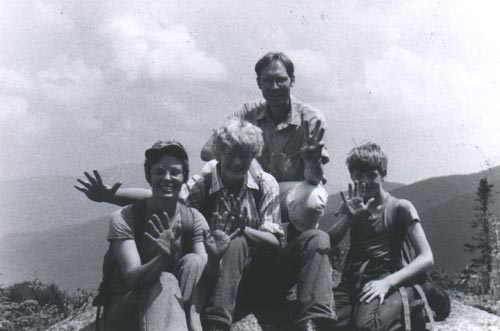 The last day we did the last two. We got up early and got on the trail at 6:30 a.m. We got to Lake Arnold at 9:00 and then headed for Colden. We arrived at the main false summit and they thought it was the top. I finally convinced them that the trail went on and we hadn't come the junction yet. Finally we got to the 'top' but it still didn't have a bench mark or a hole. As we started back I saw a little trail to the right and investigated it. Number 45!!
We made it to the shoulder of Marcy junction at 1:00. The col is deep to Haystack but we made it down. Now for the last ascent! As we went up the fog lifted. Little Haystack had a view! On top of Haystack there was a great view!!!! I was the first 46er of our family and the first one up every mountain this trip. All of us were there at 2:35 P.M.!!!!!!!!!!!!
Give me a 4 .... 4 ....

Give me a 6 .... 6 ....

Give me a E .... E ....

Give me a R .... R ....

Give me a S .... S ....

And what does it spell?

46ERS
I would like to ask how many families with a mom, dad, and one or more children under 16 did the 46 as a family?
Do I get the first number out of the four (I was the first one up Haystack by 7 min.)??
46ER, Jeff Wagener
| | | |
| --- | --- | --- |
| | Jeff did indeed get the first number of the four of us - 1671. Jennifer is finisher 1672, Jean is 1673, and I am 1674. The 2018 update to this note is that there are now over 11,000 46ers. -jlw | |